Relaxing has never been so easy.
About Us
Fatigue and stress weigh heavily on the delicate skin around the eyes, where the signs of aging are most visible. For brighter, younger-looking eyes, this eye massager is a must-have accessory, and it's our magic weapon to make eye contouring easier and more enjoyable.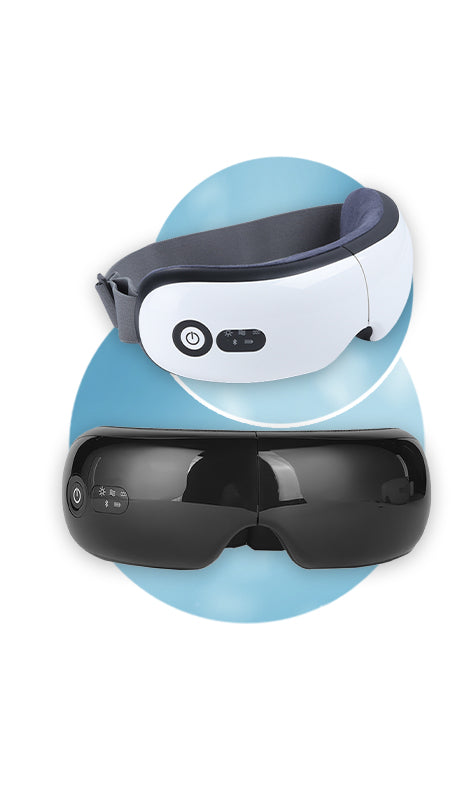 multi-contact airbag massage

Airbag massage is gentler yet effective, relieving eye fatigue.

4 Massage modes

Four modes allow you to face your eye problems in a targeted manner.

long standby

The powerful battery capacity can keep you on standby for a long time.

suede skin lining

The suede lining provides you with a soft and breathable heat compress experience.
multi-contact airbag massage
The airbag of the eye massager imitates artificial massage and pneumatic massage. Deep massage and relaxation around eye acupoints and temples through kneading, air pressure contraction, hot compress, etc. can help relieve eye fatigue, eye edema, and dark circles.
4 Massage modes
Our electric eye massager comes with four preset massage modes that can be selected according to individual needs and preferences. The precise massage of each acupuncture point can help you recover after long hours of work and study.
Check Now
long standby
This eye massager can work for a long time by using USB charging, a large capacity lithium battery, short charging time, and long standby time. You don't need to switch the machine on and off from time to time, which increases battery consumption.
suede skin lining
The suede lining constant temperature hot compress activates blood circulation, enhances the nutrient absorption capacity of the eyes, and enhances skin elasticity. Does not cause friction damage to the skin, the fabric is soft, breathable and does not feel eye pressure.
Shipping was quick and it came with instructions, it was easy to follow the instructions.
It is really nice and quality. I love warmth and air-based massages. I recommend it.
After using it for a while, it feels good.
Interesting massager. There is a heating mode. A variety of modes still need to be studied. Pleasant material and even there is a Bluetooth). Thank you seller!!!